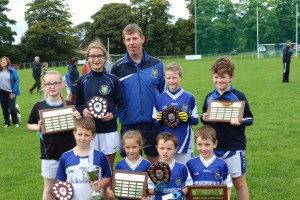 Cumann Pheadair Naofa hosted an end of season afternoon of football and fun for U-6, U-8, U-10 footballers and U-12 Ladies Footballers at Pairc Liam Uí Ír on Saturday 12 September. The children participated in mini sided Go Games Football matches with the theme of the day "Give Respect Get Respect". Following the action packed afternoon of sport, the underage players enjoyed a barbecue, which was coordinated by Daniel Bird assisted by Gary McMahon and presentations were made to the Player of the Year and the Most Improved Player of the Year for each group.
U-6 manager Paul McClorey announced James Lunny as the most Improved U-6 Player of the Year while Ryan O'Hare was a popular winner of the U-6 Player of the Year award. Under 8 mentor Moira Maginn presented Katie Poland with the U-8 Most Improved Player of the Year trophy. Niall Howlett was a worthy recipient of the U-8 Player of the Year award and was presented with the prestigious Conor Smith Memorial U-8 Player of the Year Cup by Mrs Pauline Smith. U-10 manager Paddy McShane oversaw the presentation of the U-10 awards. The Most Improved U-10 Player was Daniel Rice while Darragh Austin was the deserving recipient of the U-10 Player of the Year award.
U-12 Ladies Football manager Paula Howlett presented the U-12 Ladies Player of the Year award to worthy recipient Sara Daly while Etain Kelly was a popular choice for the Most Improved U-12 Player of the Year.
Liam Howlett, Chairman of the Football Committee, thanked all the players, managers, coaches and parents for a great season and alluded to continuing success for many years to come. He also paid tribute to the managers and mentors for their valuable voluntary contribution and commitment to coaching and for the encouragement given to the young gaels. Thanks were expressed to the Cumann Pheadair Naofa Football Committee who organised the event.