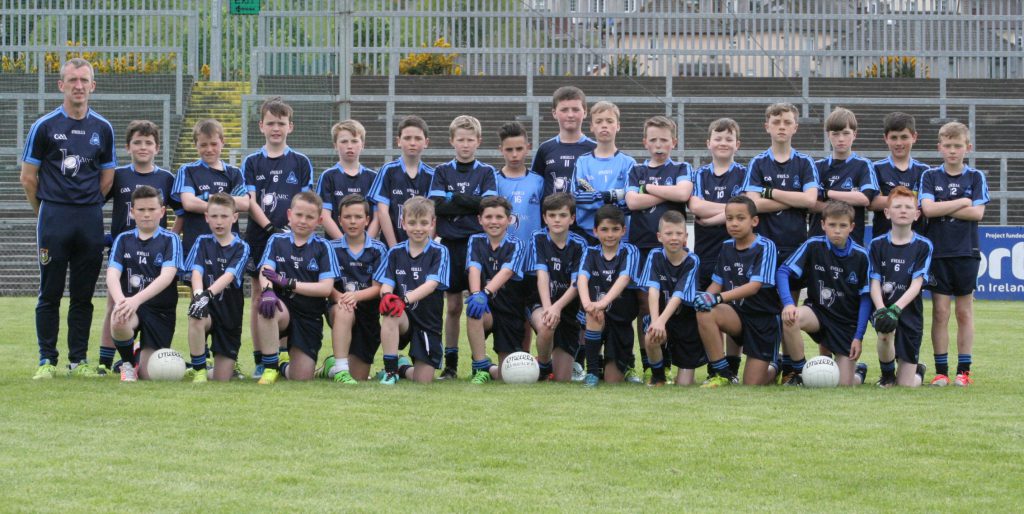 St Dallans Footballers gave a very spirited display in Canon Esler Primary schools final in what was a thrilling game at Páirc Esler on Wednesday evening, they were most unfortunate to come up against a fantastic team in Carrick PS. Carrick PS had their main men Cian Cunningham & Eoin Loughran in top form, whilst David Ruddy, Jamie Powell and Niall Rice did likewise for St Dallans.
Carrick got off to a flier of a start with a point within a minute, whilst Darragh Murphy had a shot saved at the other end. A second point from Carrick drew a reply from Darragh Murphy with his shot going over the bar. Carrick were quick out of defence and some great link work from Loughran and Cunningham saw them score the opening goal, this was followed up by another as they started to get some momentum built up. St Dallans goalkeeper Finnén McCann had an outstanding day between the posts making several vital stops and clearances out to defenders Darragh Austin, Caolan Freer and James Sweeney, who were kept very busy throughout the whole game, which meant the half backs of Caolan and Jamie were unable to push up to support midfielders James Murphy and Niall Rice as much as they'd have liked. The St Dallans forwards of Tiernan McGivern, Callan Morgan, David Ruddy and Darragh Murphy worked hard all evening and came close on several occasions of grabbing that all important goal, but the Carrick keeper time and again smothered any half chances.
The second half saw a change of fortune for the St Dallans boys, with a few positional changes, employing a three-man full forward line and quick delivery into the Carrick half saw more chances come their way. David Ruddy had a pile driver shot stopped on the line and within minutes the St Dallans goal came thanks to the boot of Tiernan Burns who drew on a low ball to smash off the crossbar and into the net.
Unfortunately for the St Dallans boys the big lead their opponents had in the first half was far too much to claw back, but the St Dallans boys kept pushing their Carrick opponents right until the final whistle. Every one of the boys there today can be proud of how they represented their school, club and parish in what was an entertaining game of football.