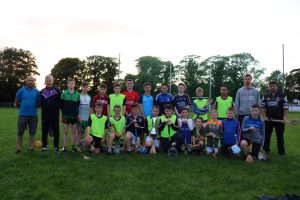 Tuesday night marked the return of Paudie O'Neill to Cumann Pheadaír Naofa. Paudie, who is the Chairman of the National Hurling Development Committee last visited the club during the summer Hurling week of 2016 to take a coaching session with all the underage players of the club. This time Paudie returned to take another session, but also to coach the managers & mentors of these teams as well as enlighten the parents of the children.
The evening started off around 5:45pm with Paudie taking a session with the U6 Hurlers & Camogs assisted by their mentors before moving onto the U8 & U10 Hurlers & Camogs.
After an informative fun filled hour, Paudie turned his attention to the U12 & U14 hurlers. Another big turnout ensured that the quality & intensity of the drills was very effective as the coaches were able to focus on the key points of Paudie's Coaching.
Paudie then turned his attention to the Minor & Senior teams where the speed and variety of intensive drills ensured that they were given an extremely effective training session and something to work on over the closed season.