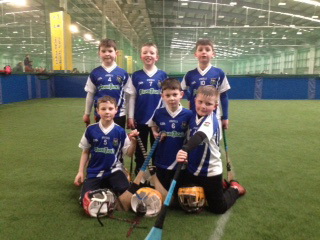 On a dark overcast morning, the U8 hurlers travelled to Dundalk for what was their last outing in the south ulster indoor blitz. Playing a total of six matches the young blues were very successful in beating Craobh Rua, Cuchulianns, Keady, St Patrick's and Clonduff and lost out to Middletown by a single goal.
Playing Croabh Rua in their opening match Eoin Campbell opened the scoring, with James Nelson and Jason Duffy putting in a strong show in defense. Another goal came after fine work between Eoin and Finn Digney. In their second game, against Cuchulianns some excellent team work again saw the blues triumph with another Eoin Campbell goal. Against Middletown in the next match the young blues were made to work very hard and were unfortunate to go down by a solitary goal. Undeterred they faced Keady with Jamie Lock scoring a hattrick of goals, he was ably assisted by John-Joe Boyle and Jason. Against St Patricks some brilliant teamwork saw John-Joe grabbing the only score of the game and another blues win in the process. The last game of the day saw them play neighbours Clonduff, with CPN scoring at will with John-joe, Eoin and Jason all scoring.
Managers Averill & Colette would like to thank the boys for a thoroughly entertaining day.
CPN were:, Eoin Campbell, John-Joe Boyle, Jason Duffy, Finn Digney, Jamie Lock and James Nelson