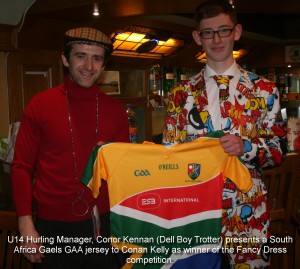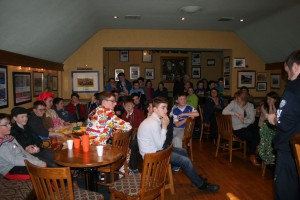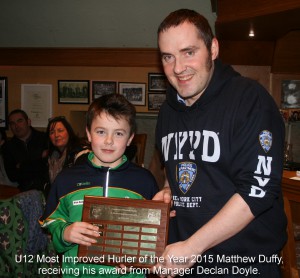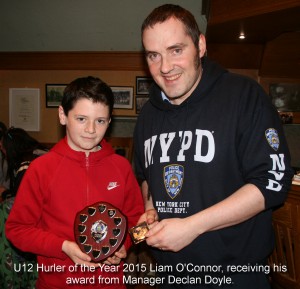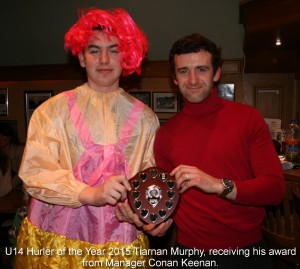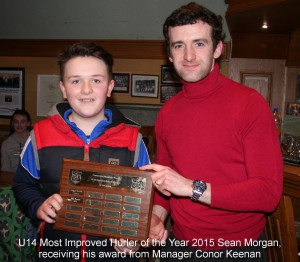 The curtain finally came down on the 2015 juvenile Hurling season with the U12 & U14 awards in Mary Street clubrooms. With the novel idea of making it a fancy dress awards, many of the players showed up in a variety of costumes from clowns to crazy suits, with Dell Boy CK Trotter in attendance and by special arrangement via video message a certain Prof Micky Sull even made the winning announcements and not a dodgy watch was passed off to the amused mums & dads that packed out the clubrooms.
The evening opened with the players being treated to Curry, Rice & chips thanks to the culinary skills of Thomas Keenan before the announcement that Conan Kelly was the unanimous choice as the winner of the best fancy dress costume and winner of the South Africa Gaels GAA jersey.
Declan Doyle, fresh from his busy "CPN does strictly" training was able to make it up to announce the most improved & player of the year awards in the U12 Hurling category. In his address Declan thanked the parents for their support & help throughout the year, ensuring that the boys were well supported in all of their games and although there was no silverware at hand the boys had manged to win most of the games they played in this year, with some outstanding displays on the field the improvements had been very encouraging with much expected in the years to come.
U14 manager Conor Keenan (Dell Boy Trotter) also was full of praise for his charges, stating that although once more there was no trophy's the boys saved their best performance for when it mattered in the county final, in which they were unlucky to be beaten by a cruel stroke of luck. Again Feile na nGael was to the fore as the club competed in the final stages of the competition for an unprecedented third year in a row.
Winners on the night were as follows;
U12 most improved Hurler of the year: Matthew Duffy
U12 Hurler of the year: Liam O'Connor
U12 most improved Hurler of the year: Sean Morgan
U12 Hurler of the year: Tiarnan Murphy
Fancy dress awards night winner: Conan Kelly
Congratulations to all on a fantastic (and memorable) night.