Emmett McGivern (Senior) Memorial U-10 Football Tournament enjoyed by all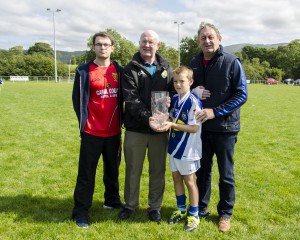 Cumann Pheadair Naofa Football Committee hosted a highly successful inter-club U-10 Gaelic Football Emmett McGivern Memorial Blitz Competition at Pairc Liam Uí Ír on Saturday 5 September 2015.
This was the fourth and final  tournament of the summer underage tournaments hosted to honour Gaels who made a significant contribution to St. Peter's GAA Club and Cumann Pheadair Naofa. Burren, Shamrocks, Mayobridge and host Club Warrenpoint provided two teams each for the tournament and amid scenes of great excitement, the overall winner of the Tournament was Cumann Pheadair Naofa, Warrenpoint. An aggregate scoring system was used for the tournament and this produced a Club winner as opposed to a team winner.
The weather was good and there was a large attendance at the tournament and spectators witnessed excellent displays of underage football across four pitches. Emmett Thomas and Patrick McGivern, sons of the late Emmett McGivern Senior, oversaw the presentations with Patrick presenting the   specially commissioned Galway Crystal Trophy to the winning captain James Sweeney while Emmett Thomas presented the medals to the team.
CPN Football Chairman, Liam Howlett thanked all the teams who participated in the tournament, the Club Referees and Club officials who ensured the smooth running of the popular under age football tournament. Thanks were also expressed to parents who provided refreshments during the tournament.