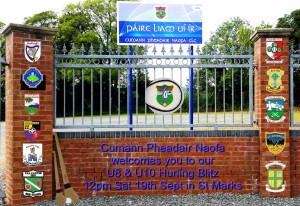 On Saturday morning Cumann Pheadaír Naofa hosted the final all county hurling blitz of the season, in what was surely the biggest hurling event this side of the ards peninsula. With a total of eleven clubs from all four corners of the county and one or two teams from Armagh as well. With the number of teams involved it was wisely decided that the event should be moved to St Marks School. As the sun shone on the freshly cut fields a total of eight pitches were set up to accommodate a total of twenty one teams on the day.
With massive numbers in attendance the festival of hurling got underway in glorious sunshine with every team getting to play at least four matches each. The U10 side of Cumann Pheadaír Naofa got their opening game underway with a tight game against Ballyvarley with a draw being the outcome after some excellent scores being taken from both sides. With hardly any time to spare the young blues then took on the mighty Portaferry. The blue and golds travelled to this part of Mourne with a very skilful side and demonstrated some fine striking, blocking and score taking as the Warrenpoint lads competed with their more experienced opponents, losing out in the end by a few scores the Cumann Pheadaír Naofa boys gave Portaferry their strongest challenge of the day. Next up for the Warrenpoint lads was Ballycran who showed great heart and spirit as they narrowly lost out to our boys in blue, once again the Warrenpoint lads took some excellent scores as they started to come out on top of their Ballycran opponents. Last up for Warrenpoint were Carryduff who although battled hard and hard a few good players, they were just not as good as the blue machine as Warrenpoint seemed able to score with every attack.
The young U8s of Cumann Pheadaír Naofa continue to get great results and from their games played today, once again they went the whole day undefeated, racking up big wins over Craobh Rua, Carryduff and Portaferry and managing a draw against a big Liatroim side.
Overall the blitz was a major success for the Cumann Pheadaír Naofa U10s with many new faces turning out to play for their club and the more experienced players able to compete with their ards and Belfast opponents on an even playing field. Many thanks must be extended to U8 & U10 manager Chris Rooney, who along with mentors Dermot Donnelly, Liam Boyle, Ciaran Doyle & Rory McIntyre, strongly believe that the standard of hurling on this part of the county has seen massive improvement and an increase in the level of interest overall!