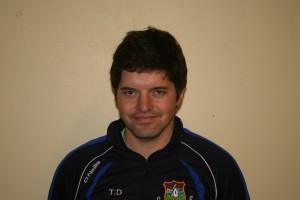 Cumann Pheadaír Naofa have made great strides on the field of play in both Hurling & Football over the last few years with a renewed enthusiasm very much evident in the coaching and management staff of the club, so it comes as no surprise that this success would be followed up off the field as well. We in Warrenpoint are very proud and honoured that one of our current playing members, Tom Daly has been elected to represent the voice of Hurling on a county level. Tom, a Senior Hurler & former Ulster select player in the game of Legends last November has been elected as the Hurling Officer for Down County board.
Toms' responsibility will primarily be to promote hurling within Down and represent the county on the Ulster Hurling Committee, this is a massive honour for a club considered as one of the minnows of hurling within Down.
With a shortage of games in past seasons for all grades, being the crux of the promotion of Hurling in Down, there has already been an increase in the number of fixtures scheduled for this coming season. Before a sliotar has even been struck in preseason Tom has made his mark by showing his desire to ensure that no team within the county can complain about having too few games. Add to this the proposed new league & championship structure for underage levels will ensure that teams will have 10-12 league games & possibly 3-4 championship matches as a minimum, keeping as many teams as possible active until the end of summer.
This is just the start of Tom's plan to promote Hurling in Down and will hopefully raise the standard of hurling as a whole in Ulster.
The people of the greater Warrenpoint area and all in Cumann Pheadaír Naofa would like to wish Tom Daly a very successful and fruitful year ahead in his new post and fully support him in his endeavours on and off the field.