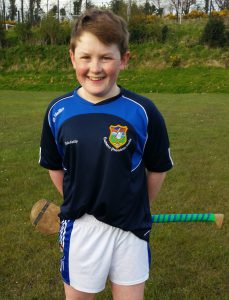 This weekend marks the start of Féile na nGael 2016. Over the weekend the U14 Hurlers & Camogs from all over the county will descend upon the square in Portaferry for the parade early on Saturday morning to St Patricks Park before all the teams then split into their various sections and compete for the chance to represent their county at national level later on this summer.
But before all this happens there is the small mater of the skillstar competition. This is where the most skilful player from each club gets the chance to demonstrate various aspects of the game from striking left & right, scoring, free taking, side-line cuts, soloing and long distances striking. Each skill is judged and marked with the winner going forward to compete against the winners form all the other countys in Ireland at national level.
This year young Oisín Kelly, a dual player (as he plays football for Rostrevor) and grandson of Peadar Ryan will represent Cumann Pheadaír Naofa.
Oisín is a very talented hurler and although small in stature he can be a real handful for any opposing half back that has had the misfortune to coming up against him. Oisín's commitment to hurling is evident as he is an integral member of the U16 panel also. Over the last few weeks & days Oisín has been put through his paces under the watchful eye of U14 manager Conor Keenan, who has been able to ensure that Oisín will be not look out of place at the top table of the county's most skilful U14 hurlers.