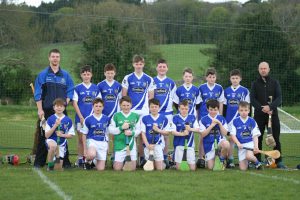 A wind swept and blustery Castlewellan were the proud host of Féile na nGael 2017. With three close venues, this year's event could only build on the success of last year. The hurling saw ten teams split between two sections with every team guaranteed at least four group games and a further semi-final. In section 2 Cumann Pheadaír Naofa were up against Portaferry, Bredagh A, Carryduff and Kilclief. Having travelled to Castlewellan with a panel of fourteen players, due to illness and other commitments, managers Chris Rooney & Loughlin Duffy knew that this was going to be a hard day's graft. Boosted by a few U12s Cumann Pheadaír Naofa took to the field in the opening fixture of the day against south Belfast kingpins Bredagh. Bredagh proved to be a rude awaking to division 1 Down hurling with Bredagh coming out 14 pt. winners.
The blues management hardly had time to draw breath before taking to the field again with Kilclief eagerly waiting to take on the Warrenpoint side. Cumann Pheadaír Naofa bolstered with five talented Newry hurlers this year were still smarting from their previous defeat and consequently took a while to settle into the game. Kilclief struck early and quick, with two early goals to give them a crucial six-point lead, but James Duggan fresh from his county skill Stars success on Friday planted a massive score from midfield followed up by a well-deserved goal to put Kilclief on the defense. In the second half Kilclief tacked on a further three points, which proved to be just enough to get them over the line, as Cumann Pheadaír Naofa could only manage a goal and point, once again from the talented Duggan.
Cumann Pheadaír Naofa faced Portaferry in their third game, who proved to be the eventual county champions with victory over Ballygalget in the final. Portaferry being a much stronger and bigger side had no problem brushing their south Down opponents aside and hence maintain their unbeaten record.
Going into the last group fixture Cumann Pheadaír Naofa took on Carryduff knowing that the winner s of the fixture would qualify for the Div2 semi-finale with the losers playing St Pat's in the division 3 semifinal. A rather timid game of hurling saw Cumann Pheadaír Naofa triumph by the bare minimum and hence meet Ballycran in the Div2 semi-final.
Again, Cumann Pheadaír Naofa came up against a tough and tactically astute Ards side that had little problem dispatching their south Down county side opponents.
Team: Darragh White, Matthew Duffy, Ben Lock, Oisín Magone, Tiernan Kelly, Evan McLoughlin, James Sweeney, James Duggan, Niall Furlong, Liam Harper, Niall Hughes, Alfie McDonald, Jarlath Donnelly, Conaire McMahon